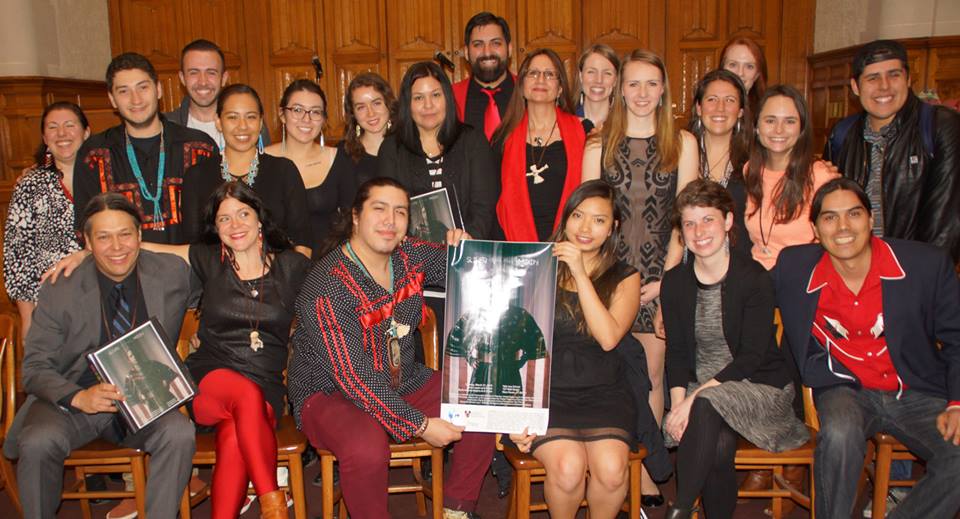 Mary Kathryn Nagle brought her play, Sliver of a Full Moon, to Yale in the spring semester of the 2014-2015 year. Sliver of a Full Moon is a staged reading on how Native women and their allies fought for the Violence Against Women Act to be reauthorized to include Native women on reservations. As the Sliver of a Full Moon website puts it, it is "a portrayal of resilience and celebration." 
Rehearsals for about a week led up to the performance on March 31st. It was sponsored by the Native American Law Students Association, the Yale Native American Cultural Center, the Yale Group for the Study of Native America, the Yale Indigenous Graduate Network, the National Congress of American Indians, the Indian Law Resource Center, and the National Indigenous Women's Resource Center. Cast regulars like Billie Joe Rich, Lisa Brunner, Tanis Parenteau and Jake Hart came to Yale to assumed their roles, Native students at Yale played chorus roles, and Madeline Sayet directed it.
Nagle brought Sliver of a Full Moon to New York to be performed alongside the UN World Conference on Indigenous Peoples, the Cherokee Central Schools Arts Center Student actors, and Harvard University, but the performance at Yale was marked in a few respects. Tribal Council Chairwoman Terri Henry, whose advocacy for VAWA is a key factor in the play, stayed to watch the play. Also, student actors, professional actors, the Native women telling their own stories, the director, and the playwright bonded and formed relationships. Eventually this led to a string of ideas and events, including the creation of the Yale Indigenous Performing Arts Program. 
To learn more:
Articles about the performance
Yale Group for the Study of Native America: http://ygsna.sites.yale.edu/news/sliver-full-moon-packs-yale-law-school
Yale Daily News: http://yaledailynews.com/blog/2015/04/03/a-sliver-of-progress/
DOWN magazine at Yale: http://downatyale.com/post.php?id=57
Indian Country Today: http://indiancountrytodaymedianetwork.com/2015/03/18/vawa-play-sliver-fu…
Video of the performance
 http://howlround.com/livestreaming-sliver-of-a-full-moon-a-play-about-ju…
Sliver of a Full Moon official website