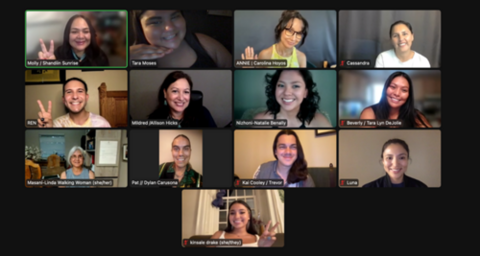 May 15-18th, the Yale Indigenous Performing Arts Program hosted our 7th Annual Young Native Playwrights Festival. More than 65 artists gathered in virtual space to make this the largest YIPAP Festival yet.
This year the festival hosted readings of three new full-length works: Mush Hole by Dawn Jamieson, Built on Bones by Tomas Endter, and As It Has Always Been by Kinsale Hueston. As a special addition this year, the festival also presented readings of eight newly commissioned short plays by all previous winners of the Yale Young Native Playwrights Contest (Reed Adair Bobroff, Charli Fool Bear, Dillon Chitto, Everett Ray George, Tara Moses, Nicholas Martin, Isabella Madrigal, and Drew Woodson.)
The festival opened in the afternoon on Sunday March 15th with readings of the eight new short plays. The plays included Court Café by Dillon Chitto, Doghead by Everett Ray George, Wake by Charli Fool Bear, Handling Verbs by Reed Robroff, Poyvfekv by Tara Moses, The Gambler by Drew Woodson, The Muskrat by Isabella Madrigal, 12 Angry Indians by Nicholas Martin. These plays were directed by Betsy Theobald Richards, Ryan Opalanietet, Tara Moses, Daniel Leeman Smith, and Madeline Sayet. The short plays featured performances by professional actors: Kenny Ramos, Carolina Hoyos, Sierra Rosetta, Nicholas Stauffer, Gia Fisher, Emery Barrera, Nicole Suyama, Marion Jacobs, Reed Bobroff, Taya Dixon, Dawn Ferguson, Kim Gleason, Ryffin Phoenix, Trevor McChristian, Natalie Benally, Chingwe Sullivan, Tomantha Sylvester, Wolfen De Kastro, Abby Ybarra, Lea McCormick, Allison Hicks, and Shawna Sunrise; as well as Yale community members: Madeleine Hutchins, Mara Guiterrez and Melia Young.
In the evening on May 15th, the festival presented a reading of "Mush Hole" by Dawn Jamieson, directed by Vickie Ramirez. The reading was performed by Helena Johnny, Audrey Miller, Zeppelin Andrew, Nancy McDoniel, Maddie Easely, Erin Tripp, Darrel Dennis, Colleen Kennedy, Jim Nugent, Sharlene Hartman, and Alyson Linefsky. 
Monday May 16th, YIPAP presented a reading of "Built on Bones" by Tomas Endter (one of the winners of this year's Young Native Playwrights Contest). Built on Bones was directed by Daniel Leeman Smith and featured performances by: Sera Lys McCarthur, Skyler Davis, Candice Byrd, Lea McCormick, Michael Pantozzi, Shamus McCarty, and Samantha Shaw. It was dramaturged by Blossom Johnson.
Tuesday May 17th we held the Annual YIPAP Awards Ceremony. Award-winning interdisciplinary artist Ty Defoe hosted the event this year. Playwright Mary Kathryn Nagle presented the Young Native Playwriting Award to Yale's own Kinsale Drake 22', and playwright Tara Moses presented the Young Native Playwriting Award to Tomas Endter. Kimbery Guerrero presented this year's Misty Upham Award for Young Native Actors to Taya Dixon, and the special youth prize to Helena Johnny. It was an incredibly inspiring evening for all involved.
We closed out the 2022 YIPAP Festival with a reading of "As It Has Always Been" by Kinsale Drake, one of the winners of this year's Yale Young Native Playwrights Contest. Kinsale has been one of the students most involved with YIPAP during her time at Yale, and even before she came to Yale, she was involved with YIPAP when she won the Yale Young Storyteller's Contest for her Poetry in 2016. It was incredibly exciting to close out this year's festival with her play "As It Has Always Been," which was directed by Tara Moses, and dramaturged by Adrian Centeno. The play was performed by: Natalie Benally, Ryffin Phoenix, Trevor McChristian, Kenny Ramos, Hermelinda Walking Woman, Tara Lyn Dejolie, Shawna Sunrise, Dylan Carusona, Allison Hicks, Jennifer Bobiwash, Carolina Hoyos, and Mara Guiterrez.
Stage Managers for this year's YIPAP Festival included: Mary Kate Baughman, Jennifer Bobiwash, Dani Brown, Samantha Shaw, and Michaela Cohen.
"I am so grateful we were able to bring all of these artists together this year to develop these plays, and celebrate Native Theater," commented YIPAP Executive Director Madeline Sayet. "Every single one of these plays inspired, empowered, and surprised audiences with their nuanced characters and journeys. The Native Theatre community is so strong even while confined to working on zoom. I look forward to the time we can finally bring all these incredible Native artists to Yale's campus in the future and welcome them properly."
We will begin accepting submissions for the 2023 Yale Young Native Playwrights Contest this Fall.