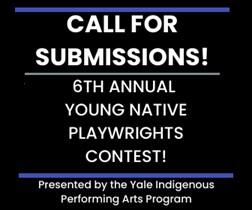 The 6th Annual Yale Young Native Playwright's Contest is sponsored by the Yale Indigenous Performing Arts Program to support the next generation of Native writers. We invite Indigenous writers aged twenty-five years and younger to submit written versions of their plays for consideration by December 30th. This year the Annual YIPAP Festival will be held virtually and we are expanding our programming to include a new contest for young Native actors under 25 as well. In addition to being showcased on their own, the winners of the acting contest will be cast in plays in this year's festival, alongside professional actors. More details about the inaugural acting award and how to submit will be announced at a later date.
Each year the YIPAP Festival consists of a workshop and staged reading of the winning youth play(s), alongside new plays by professional Native playwrights. Contest Winners will also have the opportunity to be mentored by a professional Native playwright. This year the Annual YIPAP Festival will be held online in April, and we will be curating new online experiences alongside the festival to continue to provide opportunities for deep interchange between youth contest winners and professional artists.
Below, you can find all information for applicants to apply. If you have any further questions, please send us an email at madeline.sayet@yale.edu
For those seeking more guidance YIPAP will also be offering free playwriting workshops for Native writers in December. Dates and times will be announced shortly.
Once you review the necessary information, please email your submission to madeline.sayet@yale.edu
Thank you for your creativity and passion! We look forward to reading and seeing you work!
---
For All Applicants:
Applications are due: December 30th 2020
All submissions must be emailed to madeline.sayet@yale.edu
The playwright must be between the ages of 15 and 25 and identify as indigenous.
Plays must be original scripts (no more than 120 pages and no less than 50 pages) and written in standard play-script format with one-inch margins, 12 point Times or Courier font, all pages numbered, a title page, and character list. Plays must be in either word or PDF format. 
Front page of script must list:
Title of play
Full Name
Tribal Affiliation
Date of Birth
Home Address
Email
Phone Number
*Note: Putting on a play is a collective effort and, as such, the winning playwright will be partnered with a professional Native playwright and/or director to workshop their piece before its staged reading in April. 
We look forward to reading your submissions!