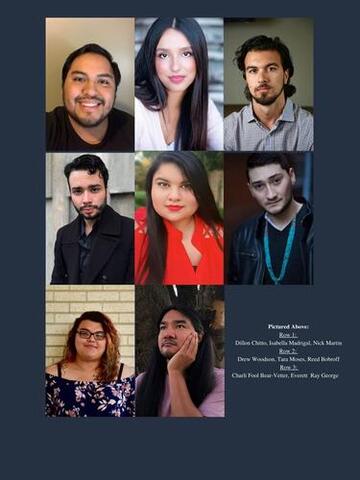 The Yale Indigenous Performing Arts Program believes deeply in the creative abilities of every writer who has won the Young Native Playwrights Contest. That is why we have decided to offer a $500 mini-commission to each of the eight previous contest winners. Each of these incredible writers will be creating a new ten minute play on the subject matter of their choosing and all of these plays will be showcased in an online event on April 9th.
"Over the years, these writers have stunned us time after time, with the wide range of their artistry," commented YIPAP Executive Director Madeline Sayet. "These playwrights represent not only many Native nations, but also many genres and styles. We can't wait to see what these writers come up with next, and are so happy to be able to offer them this professional opportunity to continue their work. It's only a matter of time before more theaters start to recognize the strength of their voices."
The eight writers are: Reed Adair Bobroff, Charli Fool Bear, Dillon Chitto, Everett Ray George, Tara Moses, Isabella Madrigal, Nick Martin, and Drew Woodson.
Below you will find more about each of the playwrights, with a reminder of what year they won the contest and for which play. All of these writers, despite their numerous accomplishments, are still less than thirty years old.
Reed Adair Bobroff (A Fraction of Love YIPAP 2016)
Reed Bobroff (Diné) is a Pushcart Prize-nominated writer, performer, and educator from Albuquerque, NM. He received his B.A. in Theater Studies from Yale University and has performed domestically, internationally, and on PBS and HBO. He was the inaugural winner of the Yale Young Native Storytellers award and has since launched plays at Yale, the University of New Mexico, telatulsa theater, and the Tricklock Theater Lab. His published work appears in journals and anthologies such as The Breakbeat Poets. Reed has led workshops in various Native communities to help youth use writing as a tool for self-expression and healing (previously as the Spoken Word Immersion Fellow from the Loft Literary Center) and as the Drama teacher at the Native American Community Academy.
Charli Fool Bear (Crickets Ate the Moon YIPAP 2016)
Charli Fool Bear is a member of the Standing Rock Sioux Tribe and grew up on the reservation before moving to New Hampshire for college. She studied theater at Dartmouth College, where she was involved in multiple productions as an actor, singer, and writer. She was awarded the Susan DeBevoise Wright award by the theatre department for excellence in playwriting. Her play The Crickets Ate the Moon was
produced as a staged reading at Dartmouth and was the runner-up of the Yale Indigenous Performing Arts Program's inaugural playwriting contest (where it also received a reading). She currently lives in Bismarck, ND where she is active in the theatre and music communities as a writer, performer, and stage manager.
Dillon Chitto (Bingo Hall YIPAP 2017)
Dillon Chitto is a Mississippi Choctaw, Laguna, and Isleta Pueblo from Santa Fe, New Mexico. There, he learned the importance of art, culture, and traditions from his family, and members of his community. In his playwriting, he connects these ideas using storytelling techniques learned throughout his life. He is presently in Chicago, Illinois where he is the literary manager for BoHo Theatre Company. In the past Dillon has worked with Native Voices, AlterTheater, Ensemble, Yale Indigenous Performing Arts Program, Oregon Shakespeare Festival, Arena Stage, among others.
Everett Ray George (The First Annual Meeting of the F.A.S. Support Group YIPAP 2018)
Everett Ray George (Fallon Paiute Shoshone Tribe) is a founding member of the Roughtalk Sweethearts theatre troupe and the writer of several plays, scripts, and stories. Of the works, some have received accolades while several others have not. He credits his artistic accomplishments to having a very understanding mom and several supportive friends, family, and teachers who never said that what he was doing was weird, even when they thought it was. He currently writes at night, after work and dedicates this piece to all the kids at Stepping Stones he's been lucky enough to help out.
Tara Moses (HE'EO'O YIPAP 2019)
Tara Moses (she/her) is a citizen of Seminole Nation of Oklahoma, Mvskoke, award-winning playwright, director, dramaturg, Artistic Director of Red Eagle Soaring, and co-Founder of Groundwater Arts. Works include Sections, He'eo'o (Winner of the 2019 Native Storytellers Contest), Quantum (2020 and 2021 Finalist for the National Playwrights Conference), Bound (2019 Native American New Play Festival Winner), Hamlet: El Príncipe de Denmark, Don Juan, Arbeka (Supported by First Peoples Fund Cultural Capital Fellowship), Patchwork, Oñgwehoñwe, Snag, Sugar, and OklaHOME. Additionally, her plays have been taught and/or are currently in the curriculum at Brown University, the University of Arkansas, the University of Arizona, UCLA, University of Washington, Oklahoma City University, and Northeastern State University. She has been/currently is commissioned by AlterTheatre Ensemble, Kitchen Dog Theater, the New Now Commission with Lauren Gunderson, Geva Theatre Center, Red Bull Theatre, Company One Theatre, and Oregon Shakespeare Festival. She is also the writer behind The Oklahoma Cycle, a seven play, interconnected cycle centered on Seminole and Mvskoke peoples in Oklahoma. She is a current M.F.A. Directing
Candidate at Brown University/Trinity Rep and holds a B.A. in Theatre from the University of Tulsa. www.taramoses.com
Isabella Madrigal (Menil and Her Heart YIPAP 2020)
Isabella Madrigal is an enrolled member of the Cahuilla Band of Indians and is of Turtle Mountain Chippewa descent. Isabella is currently a sophomore at Harvard College and is a recent graduate of the Orange County School of the Arts' Acting Conservatory. A writer, actress, and storyteller Isabella is the co-director of the Indigenous Storytelling Nonprofit, which seeks to reclaim the narrative surrounding the Indigenous experience by sharing and uplifting Native voices. Isabella's original play Menil and Her Heart was a winner of the 2020 Yale Young Native Storytellers Contest and was featured at the United Nations' Girls Speak out Event in 2019 as well as in the 2022 University of California Riverside's Writers Week. Menil and Her Heart discusses the issue of MMIWG2S (Missing and Murdered Indigenous Women, Girls, and Two-Spirit People) while centering community performance and cultural revitalization efforts. Isabella is a Coca-Cola Scholar and a National Gold Award recipient. Currently, she sits on the Youth Advisory Board for the Center for Native American Youth at the Aspen Institute (where she was previously named a 2020 and 2021 Champion for Change) and is the treasurer of Natives at Harvard College.
Nick Martin (Sappony, Always YIPAP 2020)
Nick Martin is a member of the Sappony Tribe and one of the 2020 recipients of the Yale Indigenous Performance Arts Program's Young Native Storytellers contest, for his play, "Sappony, Always". Martin is currently the editor of the Indigenous Affairs desk at High Country News and a contributing editor at The New Republic, where his work focuses on tribal sovereignty and Indigenous land and water stewardship. Martin is also an essayist published by Poetry Foundation, The Drift, CNN Opinion, among others.
Drew Woodson (Your Friend, Jay Silverheels YIPAP 2021)
Drew Woodson is a graduate from the University of California Berkeley with a degree in Theater and Performing Arts and was the recipient of the 2021 Young Indigenous Playwrights Award at Yale for his play "Your Friend, Jay Silverheels," which he is currently developing. Drew is a member of the Te-Moak Band of Western Shoshone peoples in Nevada, but grew up in Northern California on Pomo territory. An actor and playwright in Berkeley, California for the past six years, Drew currently resides in New York City where he is continuing to pursue a career in the arts as a Native actor and playwright, hoping to be part of the positive change in Native representation for future generations.