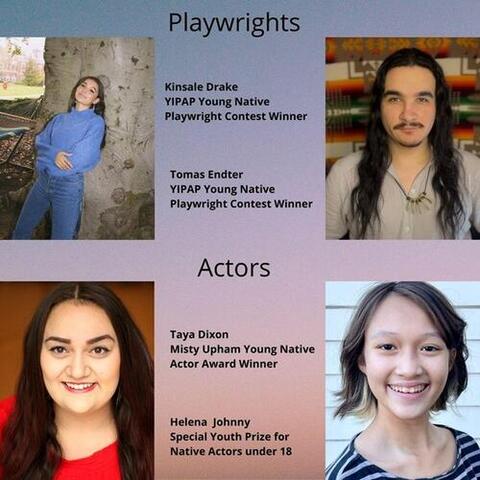 The Yale Indigenous Performing Arts Program is pleased to announce the winners of the 7th Annual Yale Young Native Playwrights Contest, and 2nd Annual Misty Upham Award for Young Native Actors.
The winners of this year's Young Native Playwrights Contest are Kinsale Drake (Diné) and Tomas Endter (Lac La Ronge). Kinsale Drake's play "As It Has Always Been" and Tomas Endter's play "Built on Bones" will both receive developmental workshops as part of this year's New Native Play Festival. Sophia Madrigal (Cahuilla) was named a finalist for the playwriting award this year.
YIPAP Executive Director Madeline Sayet noted that, "The plays submitted this year were incredibly competitive, and we are absolutely thrilled to be able to share Kinsale and Tomas' plays with audiences. Each of these works is so brilliant, moving, and distinct in their own ways."
The winner of this year's Misty Upham Award for Young Native Actors is Taya Dixon (Tututni / Siletz Tribe). Sayet commented, "The entire panel of judges was immediately impressed by the depth and clarity of Taya's work." The recipient of the Special Youth Prize for Actors Under 18 is Helena Johnny (Cowichan).
This year's festival will be held in May, as well as an honoring ceremony for this year's contest winners. The festival will once again be held online, due to limitations on outside guests gathering on campus. The festival schedule will be released soon. This year's festival includes commissioned short plays from all previous playwrights winners, as well as a reading of MushHole by Dawn Jamieson (Cayuga). You can learn more about this year's contest winners below.
Kinsale (Diné) is a writer, narrator, and current senior at Yale University studying Indigenous educational policy, poetics, and feminisms. She is a former First Peoples Fund Fellow and National Student Poet, a current Bucknell Undergraduate Poetry fellow and Indigenous Nations Poets Fellow, and the winner of the J. Edgar Meeker Prize for Poetry and the YIPAP Award for Storytelling. Her work has been featured in TIME, The Adroit Journal, and NPR, among others, and is published or forthcoming in New World Coming (Torrey House Press, 2021), The Languages of our Love (Abalone Mountain Press, 2022), and her zine Hummingbird Heart (Abalone Mountain Press, 2022). An actor and member of play development circles since 2015, Kinsale has performed in and/or workshopped dozens of productions by Native artists and playwrights, and is an avid fan of Native theater— one of her first loves.
Tomas Endter is a Nehithaw (Lac La Ronge) actor and playwright from the not too terribly distant lands of the Suquamish, on the Key Peninsula in Washington State, and the less distant lands of the Ho-Chunk, in Verona, Wisconsin. A founding member of the Fair Verona Shakespeare Company, Tommy has been involved in the theatre since 2012, finding love for the temporal nature of staged performance at a young age. Tommy attended The New School of Drama from 2016-2020, graduating with a BFA in the Dramatic Arts, with a focus on acting/playwriting. Since then they have been Teaching middle school Drama and Language Arts at The Windward School in Manhattan, and are making their playwriting debut through YIPAP
Taya Dixon (Tututni / Siletz Tribe) received her B.F.A in Acting and Performance from Southern Oregon University. This is Taya's second time being a part of YIPAP, and she is so honored  to have won this award, and to be in the festival again. Recent projects and productions Taya has been a part of include: Butterfly (as Ket) for the Yale Indigenous Playwright Festival; Oedipus (as Greek Chorus) at Isolation Theatre; Hedda Gabler (as Aunt Julia); Silkworms (Teresa); Into the Woods (as Jack's Mother), all at the Oregon Center for the Arts. She adores reading the indigenous stories in this festival because it makes her feel closer to her community. Taya loves that she has the opportunity to tell indigenous stories for her own reconnection, but even more for her grandmother who grew up in a time where being native was something her mother told her was "not to be talked about." Nn-ghaa~-nvsht-srvn grandma.
Helena Johnny (Cowichan) is 11. She likes acting, drawing, dancing, and listening to music. Her favorite food is anything chocolate and her favorite TV show is anything anime.