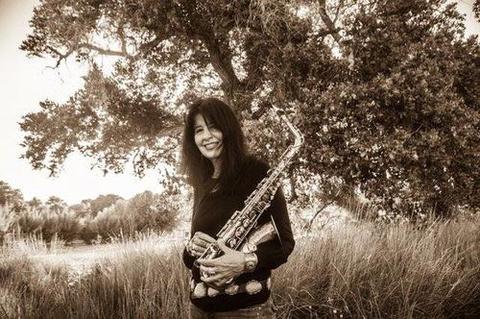 On Tuesday, March 5, the Yale Indigenous Performing Arts Program will welcome nationally acclaimed poet and playwright Joy Harjo (Muscogee (Creek) Nation) to Yale University's campus to celebrate the recent publication of her one woman play Wings of Night Sky, Wings of Morning Light, with the Wesleyan Press. Scholar Priscilla Page will join her in reading and discussing the script. The event will be held on March 5, at the Yale Center for British Art Auditorium, at 1080 Chapel Street, New Haven, CT from 4pm to 5:30pm EST. Seating will be first come, first served, and attendance is free and open to the public.
Joy Harjo was born in Tulsa, Oklahoma, and is a member of the Muscogee (Creek) Nation. She earned her BA from the University of New Mexico and MFA from the Iowa Writers' Workshop. Harjo draws on First Nation storytelling and histories, as well as feminist and social justice poetic traditions, and frequently incorporates indigenous myths, symbols, and values into her writing. Her poetry inhabits landscapes—the Southwest, Southeast, but also Alaska and Hawaii—and centers around the need for remembrance and transcendence. She once commented, "I feel strongly that I have a responsibility to all the sources that I am: to all past and future ancestors, to my home country, to all places that I touch down on and that are myself, to all voices, all women, all of my tribe, all people, all earth, and beyond that to all beginnings and endings. In a strange kind of sense [writing] frees me to believe in myself, to be able to speak, to have voice, because I have to; it is my survival." Her work is often autobiographical, informed by the natural world, and above all preoccupied with survival and the limitations of language. She is currently a literary Fellow with the prestigious Tulsa Art Fellowship in Tulsa, Oklahoma.
Wings of Night Sky, Wings of Morning Light also includes essays and interviews concerning the roots and the reaches of contemporary Native Theater. In her play, Harjo blends storytelling, music, movement, and poetic language―a healing ceremony that chronicles the challenges young protagonist Redbird faces on her path to healing and self-determination. This text is accompanied by interviews with Native theater artists Rolland Meinholtz and Randy Reinholz (Choctaw Nation), as well as an interview with Harjo, conducted by Page. The interviews highlight the lives and contributions of Meinholtz, a theater artist and educator who served as the drama instructor at the Institute of American Indian Arts from 1964–70 and a close mentor and friend to Harjo; and Reinholz, producing artistic director of Native Voices at the Autry, the nation's only Equity theater company dedicated exclusively to the development and production of new plays by Native American, First Nations, and Alaska Native playwrights. The new interview with Harjo focuses on her experiences working in theater.
Essays on Harjo's work are provided by Mary Kathryn Nagle―an enrolled citizen of the Cherokee nation, playwright, and attorney who shares her insights on the legal and historical frameworks through which we can better understand the significance of Harjo's play; and Priscilla Page―writer, performer, and educator (of Wiyot heritage), who looks at indigenous feminism, jazz, and performance as influences on Harjo's theatrical work.
"We could not be more thrilled to welcome Joy to visit our campus and connect with our faculty and students," states Mary Kathryn Nagle, Executive Director of the Yale Indigenous Performing Arts Program. "The erasure of authentic Native voices from the American stage, in Hollywood, and in academic textbooks across the nation leave most Native college students feeling invisible and irrelevant. It is incredible that our Native students at Yale will get to see firsthand that our erasure is neither permanent nor inevitable; for many of us, Joy's work stands as a beacon of hope and inspiration in a field where we are just now gaining access and recognition."
Wings of Night Sky, Wings of Morning Light has already garnered high praise. "This play clearly illuminates the collective grief, disconnection and suffering many indigenous people experience because of the brutalities of colonization," states Victoria Nalani Kneuhbuhl (Pacific Island Author and Playwright ). "But more importantly, Joy's voice gives us strength, by reconnecting us to our ancestors, to our guardian spirits, and to each other."
"Through the lens of Joy Harjo's mandate 'to follow the mystery' and the 'liminal backroads' of art practice, we arrive at the terror and wonder of the theatrical moment as a site of healing for all of us," adds Cherríe Moraga (Playwright, The Mathematics of Love).
"Joy Harjo is a masterful and remarkable Native artist," states Loriene Roy (Professor, School of Information, University of Texas at Austin). "She is known as a writer across genres including poetry, essays, and picture books. She is a musician with a lyrical voice holding a saxophone between her tattooed fingers. And she is a national treasure."
"Harjo's play follows an ancient path, that of tribal creation, healing pain, loss, love, and ultimately helps us remember we will survive," states LeAnne Howe (Edison Distinguished Professor in American Literature, University of Georgia). Wings of Night Sky, Wings of Morning Light: A Play by Joy Harjo and a Circle of Responses is destined to become a classic."
*          *          *