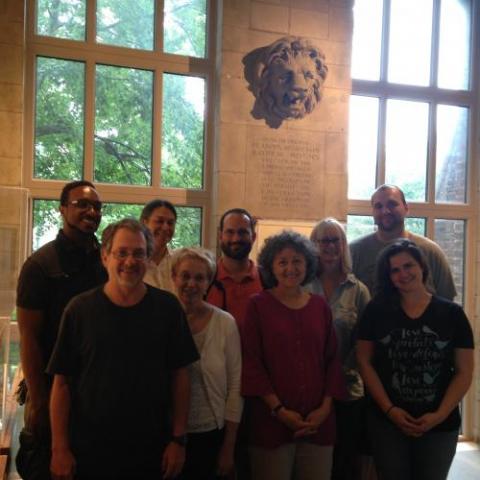 As part of the Yale-New Haven Teachers Institute, eight teachers from the New Haven Public Schools developed curricular units on various Native American Studies subjects in the summer seminar "American Indian History" conducted by
YGSNA
faculty coordinator Ned Blackhawk. Designed to introduce North American Indian history to interested K-12 teachers, this seminar provided a broad overview of the field and highlighted general features of U.S. colonial history, federal Indian policy, and Native American literary history. Fellows designed research and curricular units in conjunction with a series of common readings, discussions, site visits, guest presentations, and film screenings. In particular, Sherman
Alexie's
The Absolutely True Diary of a Part-Time Indian
, Chris Eyre's 
Smoke Signals 
and
 Skins
, Mary Kathryn Nagle's 
Sliver of a Full Moon
, the photography of Horace
Poolaw
, and the twelve short films made about Great Lakes Indian life and culture, The Ways, provided alternative visions of the experiences and challenges of contemporary Native Americans in modern U.S. society. Many Fellows attended the Yale Law School performance of Nagle's 
Sliver of a Full Moon,
 met with her subsequently, and incorporated aspects of her play about the 2013 reauthorization of the Violence Against Women Act into their units.
The diverse classroom settings of these New Haven teachers amplified the need for accessible and approachable ways for introducing Native American Studies to area students. Curricular units ranged from literary and historical units to elementary school pedagogical lesson plans designed to convey the experiential nature of The Trail of Tears. Designed to assist fellows in deepening their knowledge of the subjects they teach by developing new curricular material to engage and educate their students in their school courses, the Institute is a four-decade partnership between Yale and the New Haven Public Schools.
See attached pdf