This past Saturday, April 22, 2017, the Yale Indigenous Performing Arts Program (YIPAP) presented the Second Annual Youth Native Storyteller Festival, featuring award-winning creative and voices from talented Native students and young adults from across the United States. The Festival's winners were selected by a panel of national judges with extensive experience as artists performing Native stories, plays, spoken word, dance, and music.
"Our Second Annual Festival was a huge success. We had a packed house, there was hardly an empty seat," stated YIPAP's Executive Director, Mary Kathryn Nagle. "And by the end of the night, everyone was on their feet clapping for the incredible talent of the youth featured in the Festival. It is clear that the future of Native theater and performance is in good hands with the next generation of artists just now emerging across the country."
"The YIPAP Storyteller's Festival is an important event and a highlight on Yale's campus. Not only is it drawing considerable talent from the next generation of Native artists; it has also become an annual site for the performance of significant new work," states Sarah D'Angelo, Assistant Professor, Theatre Arts and Performance Studies at Brown University, Development Coordinator for the Oklahoma City Theatre Company Native American New Play Festival.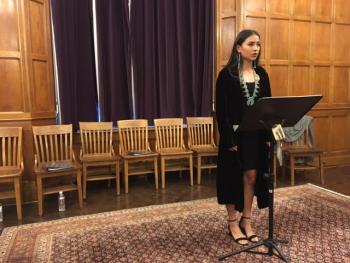 Kinsale Hueston (Navajo) performed three of her poems. Kinsale is currently a junior in high school living in Orange County. She not only performed her own poetry, she also acted in the staged reading of Dillon Chitto's Bingo Hall. "Kinsale's work tackles difficult subjects, namely the effect of colonization in Native communities," recounts Reed Bobroff, "and she puts her poems in conversation with literary giants like Toni Morrison and Walt Whitman as well as her family and ancestors through her affinity for rhythm and metaphor."
The Festival also featured Sierra Simpson (Northern Cheyenne/Navajo), who danced her prayers and her stories. Sierra is both Northern Cheyenne and Navajo, and resides in Lame Deer, Montana where she is currently a junior in high school. "Sierra's performance offered not only a beautiful demonstration of jingle dress dancing," said History Professor Ned Blackhawk, "it also invited us to consider the multi-tribal and deeper history of Native performance and dance. Metal jingles became increasingly incorporated into Native regalia throughout the nineteenth and early twentieth centuries, often removed from government and/or trader-provided metal cans. It's become a beautiful form of cultural expression and adaptation, and Sierra's expert precision really connected with the audience, especially the many school children in attendance."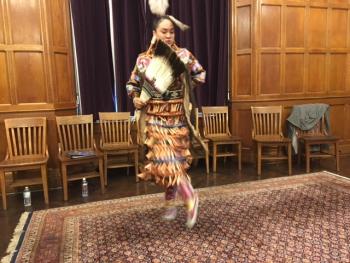 Next the audience heard the incredible Hu To'Wi Baxter (Omaha Tribe of Nebraska). Baxter, a junior at Flandreau High School in South Dakota, performed two songs. "Hu To'Wi's voice is truly incredible," states Nagle. "We were very impressed to hear her write and perform her own original song, as well as sing a round dance song. Her voice is unique, powerful, and transformative. I am excited to see where she goes, I know her voice and talent will make a great impact in Indian country and the entire Nation."
The evening concluded with a staged reading of Dillon Chitto's (Mississippi Choctaw, Isleta Pueblo, and Laguna Pueblo) Bingo Hall. Madeline Sayet (Mohegan) directed the staged reading that featured a collection of professional and student actors, including Jake Hart, Reed Adair Bobroff, Cole Richards, Betsy Richards, Kinsale Hueston, Sarah D'Angelo, Madeleine Hutchins, and Kapiolani Laronal.
"It was thrilling to support playwright Dillon Chitto witnessing Bingo Hall's characters come to life for the first time on stage. I'm excited by the promise of this newcomer's voice, humor and talent."  Betsy Theobald Richards, YSD '90 (Cherokee Nation).
"YIPAP's work, nurturing the future of Native Theater is invaluable," states Madeline Sayet, who directed the reading of Bingo Hall at the Festival. "This was both Dillon's first full-length play, and his first time hearing the play read out loud. The audience responded immediately to Dillon's warm, clever writing and it was an honor to witness the birth of a great playwright. Every single one of the artists who were honored and performed is great cause for hope for the future." 
The evening's festivities culminated in a reception hosted by the Native American Cultural Center on campus, located at 26 High Street, New Haven CT.
The Second Annual Yale Young Native Storyteller's Festival was made possible in part from funding provided by the Yale School of Drama (YSD), the Howard Lamar Center, and the Yale Center for the Study of Race, Indigeneity, and Transnational Migration (RITM).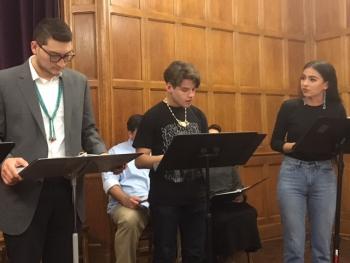 "YIPAP's work of honoring and championing indigenous artists plays a vital role in the artistic landscape of Yale and in the field of theater and performance," states Chantal Rodriguez, Assistant Dean, Yale School of Drama. "The School of Drama is proud to support the Young Native Storytellers Contest in cultivating a new generation of storytellers whose dynamic perspectives and voices challenge us to listen in new and exciting ways."
"These winners represent some of our communities' most important emerging voices, and they remind us that artists must always play key roles in remembering the past and imagining better, collective futures," states Stephen Pitti, Director of the RITM Center.