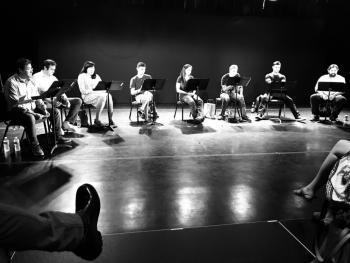 The Yale Indigenous Performing Arts Program is thrilled to announce this year's winners of the Young Native Storytellers Contest. This year's winners are Isabella Madrigal (Cahuilla Band of Indians) for her play Menil and her Heart, and Nick Martin (Sappony) for his play Sappony, Always.
Isabella Madrigal is an enrolled member of the Cahuilla Band of Indians and is of Turtle Mountain Chippewa descent. She is currently a senior at the Orange County School of the Arts and is enrolled in the Acting Conservatory.  She is a 2020 Champion of Change through the Center for Native American Youth and spoke at the United Nations' Girls Speak Out Event in 2019 to address violence against indigenous women. Her play and production of Menil and Her Heart has also earned Isabella her National Girl Scout Gold Award.
Inspired by three traditional Cahuilla stories, Menil and Her Heart follows the disappearance of a Cahuilla girl, her family's grief, and her sisters journey to find her. 
NickMartinis a member of the Sappony Tribe and a staff writer at The New Republic, where he covers Native and Indigenous issues. 
Nick Martin's Sappony Always is a multi-generational journey that tries to count the intangible costs of being the first Sappony to step into previously restricted spaces. Dropping in on four distinct moments, the story takes us from the present, in the contentious living room of a fledgling writer wrestling with love and identity, all the way back to 1937, where from the weathered front seat of a Buick Sedan, a young woman must make a decision between forgiveness and revenge that will ripple out for decades to come. Sappony, Alwaysis a heartfelt ode to all the Sappony, past and present, whose persistence in the face of segregation and colonization ensured such a play could exist.
"We could not be more excited to work with both of this year's winners," states Madeline Sayet, Executive Director of the Yale Indigenous Performing Arts Program. "The panel was truly inspired by the play submissions this year and we are so excited to welcome these two extraordinary young artists to campus to develop and support their work."
In addition to our winners, this year two additional plays were honored as Finalists for the contest: Hostileby Tomas Endter (Cree) and Calamusby Patric Verrone (Osage/Kiowa).  
Each year, the YIPAP Festival brings professional actors and directors to campus to develop new Native plays. A staged reading of Menil and Her Heartwill be performed at 6 PM on Tuesday March 2nd at the Yale Off-Broadway Theater (41 Broadway, New Haven, CT). It will be directed by Tara Moses (Seminole). Tara Moses has received national acclaim for her work as a director and playwright. She is currently the Artistic Director of Telatúlsa in Tulsa, OK and is a previous Yale Young Storytellers Contest Winner. 
There will be a short break following the reading of "Menil and Her Heart," followed by the reading of Sappony, Always by Nick Martin at 7:30 PM on Tuesday March 2nd. The staged reading of Sappony, Alwayswill be directed by YIPAP Executive Director Madeline Sayet (Mohegan). 
This year, in addition to working with a combination of professional directors, and professional and student actors, YIPAP is also making sure each playwright has the opportunity to work with a professional dramaturg as well. YIPAP is partnering with Beehive Dramaturgy Studio in order to bring skilled professional dramaturgs into our process. 
"Dramaturgs are a key part of professional play development processes at most theaters and a great resource for playwrights and directors, so we want to make sure these young playwrights have the opportunity to work with a dramaturg as part of what we hope will be both an exciting development process for the plays and a rewarding learning experience for the playwrights."
This year's YIPAP Festival will also feature a new play by Penobscot Nation Ambassador and writer Maulian Dana. At 5 PM on Sunday March 1st, there will be a staged reading of Molly by Maulian Dana (Penobscot), a new play about the life of internationally renowned Penobscot dancer and scholar Molly Spotted Elk (based on the book Molly Spotted Elk: A Penobscot in Paris, by Bunny McBride).  
The play chronicles Molly's journey and struggles to be respected for her work as an artist, as she leaves home on Indian Island and travels across the ocean to Paris to pursue her dreams. 
The staged reading of Mollyby Maulian Dana will be performed at 5 PM on Sunday March 1st. Madrigal and Martin's plays will both be shared publicly in the form of staged readings back to back on Monday March 2nd, at 6 PM and 7:30 PM. Following both readings on Monday March 2nd, there will be a short talk back with both contest winners and audiences will be invited to a reception. 
All readings will be located at the Yale Off-Broadway Theater, at 41 Broadway, New Haven, Connecticut.  Attendance is at no cost and seats are first come first served.