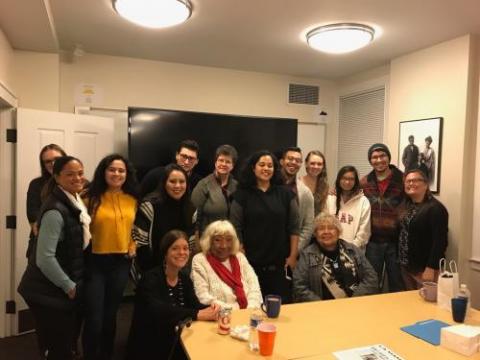 On November 7, 2017, the Yale Indigenous Performing Arts Program (YIPAP) brought Gloria Miguel and Muriel Miguel of Spiderwoman Theater to Yale's campus. Together, Gloria and Muriel guest-lectured in Professor Elise Morrison's Feminist Theater and Performance class in the Yale School of Drama. Their guest lecture was followed by a dinner and reception at the Native American Cultural Center where they were greeted by Native students and other members of Yale's community.
"As a contemporary Native playwright, I have a great deal of gratitude for these brilliant, amazing artists," stated Mary Kathryn Nagle, Executive Director of YIPAP. "For decades Spiderwoman Theater has worked to create provocative and compelling performances that tell Native stories from a Native perspective at a time when no theaters were producing Native artists. I am blessed to live and work at a time when that has begun to change—but this change is in large part the result of their decades of effort to remove the invisibility of our Native artists."
Spiderwoman Theater was founded in 1976, and in the early 80's, Indigenous communities in New York and nationally and internationally identified the women of Spiderwoman Theater as a powerful voice for their concerns and so the company emerged as a leading force for Indigenous women, artists and cultural artisans. Sisters and elders Lisa Mayo, Gloria Miguel, and Muriel Miguel, who are from the Kuna and Rappahannock nations, currently form the core of the company.
They were the founding contributors to the Native American Women Playwrights Archive at Miami University in Oxford, Ohio, where they received honorary Doctorates of Fine Arts in 1997 for their life's work and contribution to the theater. In 2005, Spiderwoman Theater was honored as part of an exhibit, New Tribe, New York, at the Smithsonian Institution's National Museum of the American Indian in New York City. In 2010, they received The Lifetime Achievement Award from the Women's Caucus for Art.
Their latest play, Material Witness, explores issues related to the rampant levels of violence against Indigenous women and challenges audience members to break the silence and create a society in which women and children are free from violence.
"I met both women when we were a part The Feminist Art Project for the College Art Association 2017 Conference held at the Museum of Art and Design last year," stated graduate student Natalie Hall (Klamath/Modoc). "I did my War Hoop performance at the Grace Exhibition Space for The Feminist Art Project: From the Belly of The Beast in Brooklyn, New York that Friday. The curators were Maria Hupfield and Katya Grokhovsky. And the next day I attended the panel discussions at MAD, "Crossroads: Art + Native Feminisms" (link: http://madmuseum.org/events/crossroads-art-native-feminisms) where I heard them speak and we ate lunch together there. I've known about them and followed their work for many years. It was an honor to share food, talk and laugh with them a second time at the NACC!"